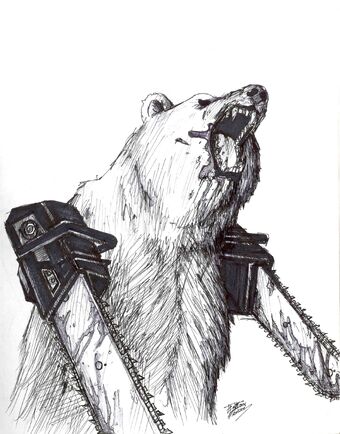 WHAT THE HELL IS THAT?
IT HAS MADE ME SHAT!
WHAT MANNER OF ROTATING SCISSOR FUR MAKES IT APPENDAGES SPIN WITH BLADES?
IS THIS THE PUNISHMENT DUDES HAVE COME TO FOR DOING THINGS OUR MOTHERS HAD FORBADE?
I AM AFRARD! I AM AFRAID!
YOU HEARD WHAT I SAY'D!
IT FEEDS ON BLOOD AND POOPS OUT FEAR!
IT LIKES THE TASTE OF YOUR SWEET TEARS!
IT IS DANGER BEAR!
DANGER BEAR!
DANGER BEAR!
BEWARE! BEWARE!
BEWARE THE DANGER BEAR!
--bandit and raider kennel's campfire song